A Road Trip through Rocks and Petroglyphs: An Adventure of Pandemic Proportions
By Stefanie Voss, PE, PG, AEG St. Louis Chapter
My adventure took place in October 2020 and included a road trip to western Colorado and Eastern Utah. This trip came about to visit destinations that I and travel buddy Anna Saindon (also a St. Louis Chapter member) wanted to see for a number of years. This blog is based on a presentation I gave on April 22, 2021 to the AEG St. Louis Chapter on my travel experiences with the geology and its relation to the ancestral peoples, and highlights both Mesa Verde National Park and Dinosaur National Monument. Since I enjoyed this trip so much, I wanted to share it with you!
Mesa Verde National Park: I have wanted to visit this destination for a number of years. This park boasts amazing canyon and Mesa vistas along with cliff and pit dwellings of the Ancestral Puebloans, formerly the Anazasi. The Mesa Verde Group member of the Cliff Palace sandstone helped provide the cover in the arches, blocks for building dwellings and shrines, and seeps to bring them water. The easily carved rock helped them create steps and handholds to get to the mesa tops to grow their crops. They transitioned from pit homes in 900 CE to cliff dwellings by 1200 CE (Common Era). They left the area in 1300s, likely due to changing climatic conditions and migrated south to become the Puebloan culture that we know today.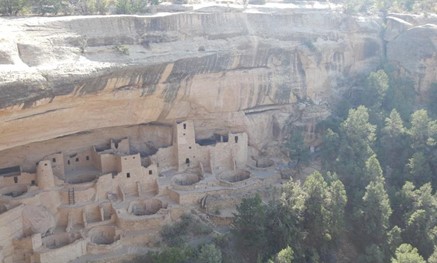 Photo: Cliff Palace in the sandstone formation that also bears its name. Photo by Stefanie Voss
The community evolved their homes through the centuries and left petroglyphs depicting hunts, spirals, hand prints and other images etched upon the cliff walls and other structures. Bighorn Sheep are common images in the Mesa Verde area.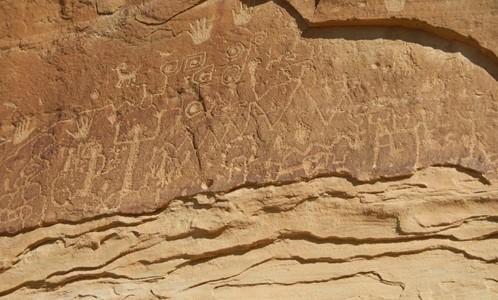 Petroglyph Point before the trail ascends to the mesa top. Photo by Stefanie Voss
Other Ancestral Puebloans cliff homes and mesa pit house sites are found at Hovenweep and Canyon of the Ancients National Monuments.
The Ancestral Puebloans neighbors to the north were the mysterious Fremont People, who lived in much of Utah. Petroglyphs are found from Canyonlands to Dinosaur National Parks and west near Parowan, UT.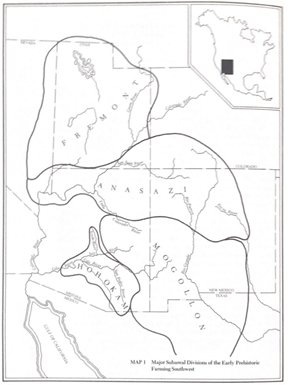 Dinosaur National Monument: Another park I have wanted to visit, Dinosaur National Park is a dream destination for geologists, paleontologists, and archaeologists.  It straddles NW Colorado and NE Utah with gorgeous vistas, dinosaur fossils visible in both formations and partially exposed in the Quarry Exhibit Hall, an old pioneering woman homestead, and Fremont petroglyphs. Fossils are found in the Mesozoic Era formations Frontier Formation, Morrison Formation, and Stump Formations.  The Nugget Sandstone is home to the Cub Creek Petroglyphs.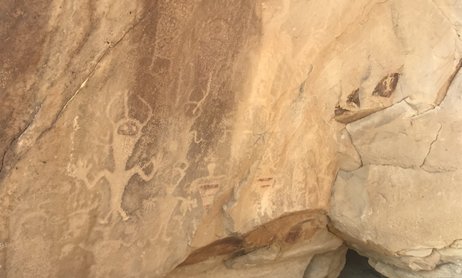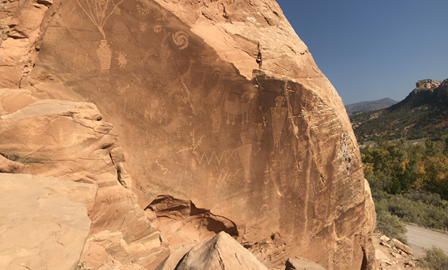 Upper photo: anthropomorphic representations. Lower photo: more elaborate images with headdresses and necklaces on shamanistic petroglyphs. Bighorn sheep and deer are present. Photos by Stefanie Voss
The Fremont people were mostly nomadic hunter-gatherers, who traded goods with nearby tribes, such as the Ancestral Puebloans. Families lived in groups of 12 in pit homes. Images are mostly of hunting scenes with the animals that they followed – deer, sheep, and bison. Their enigmatic culture disappeared 
entirely in the 1300s CE with only petroglyphs and scattered pit homes remaining.
Fremont lizard images, 6 foot tall, climbing toward anthropomorphic person. Photo by Stefanie Voss
Dinosaur fossils are the main draw to the park, hence its name. They can be found exposed on the various formations on the eastern side of the park.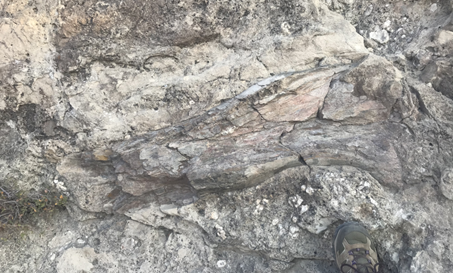 Dinosaur femur in the Morrison Formation, can you see it? Photo by Stefanie Voss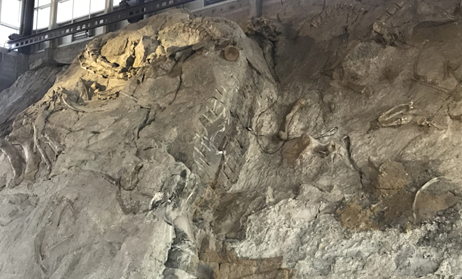 Quarry Exhibit Hall - Paleontologists of the 1900s wanted this hall to show public how these fossils are found. Fossils cleaned and remain in the cliff face. Photo by Stefanie Voss 
This trip was thrown together in a few months, but was years in the making, as well.  I was so excited to see both parks for their beautiful landscapes and to appreciate the geology.  It was also interesting to discover the ties between the two ancient cultures and how geology also played a huge part in their lives. Dinosaur National Monument really impressed me with its diversity in activities and its expansiveness. If you are looking for your own adventure this year, please give your National Parks a visit, especially Mesa Verde and Dinosaur. Happy Trails!  Please contact Stephanie Voss at [email protected] for more information.
Share this post: