Travels in Geology - Utah
Bryce Canyon Park (Soly Moses)
It is nearly summer, and that means vacations, travel and road trips. As a follow-up to our article Travels in Geology - California, this month we have decided to feature some of the fantastic opportunities to experience geological wonders throughout the state of Utah. (Be sure to check on all locations for current visiting protocols during Covid.)
The forces of erosion and climate have exposed an extraordinary diversity of rocks and geologic formations throughout Utah, making it a fascinating location to visit and explore. The commanding landscape documents the ongoing processes of wind and water erosion, the formation and disappearance of glaciers and lakes, and the land-altering impacts of powerful earthquakes and volcanoes.
The rocks and sediments of Utah provide clues to the history of the Earth's environment during every period of geologic time and the state is also one of the most abundant sources of dinosaur fossils. If you enjoy exploring geology and natural history, Utah is a state rich with opportunities.
Where to begin
Utah is home to many National Parks and Monuments, which feature some of the most spectacular sights and most significant natural features in the country. If you only have time to visit one or two locations, you'll want to start here.
Geologic Wonders of Utah's National Parks
Truthfully, you can't go wrong at any of Utah's National Parks, they are all well worth a visit. But for the geology fan, we've picked a few must-sees.

Zion National Park (NPS photo/Christopher Gezon)
It's no coincidence that Zion National Park was chosen to be preserved as Utah's first National Park. The 140,000 acres of iconic red rock landscape includes 2,000-ft sheer vertical sandstone cliffs, forested mesas, striking deserts, volcanoes and miles of brilliant multi-colored canyons. It is a truly spectacular and awe-inspiring place to visit.
84% of the park is designated as wilderness, and therefore one of the few places where nature can truly exist undisturbed as it has for centuries. For the adventurous, Zion is also one of the premier locations to engage in canyoneering. However you choose to explore Zion, you will be rewarded by unparalleled beauty and one-of-a-kind landscapes.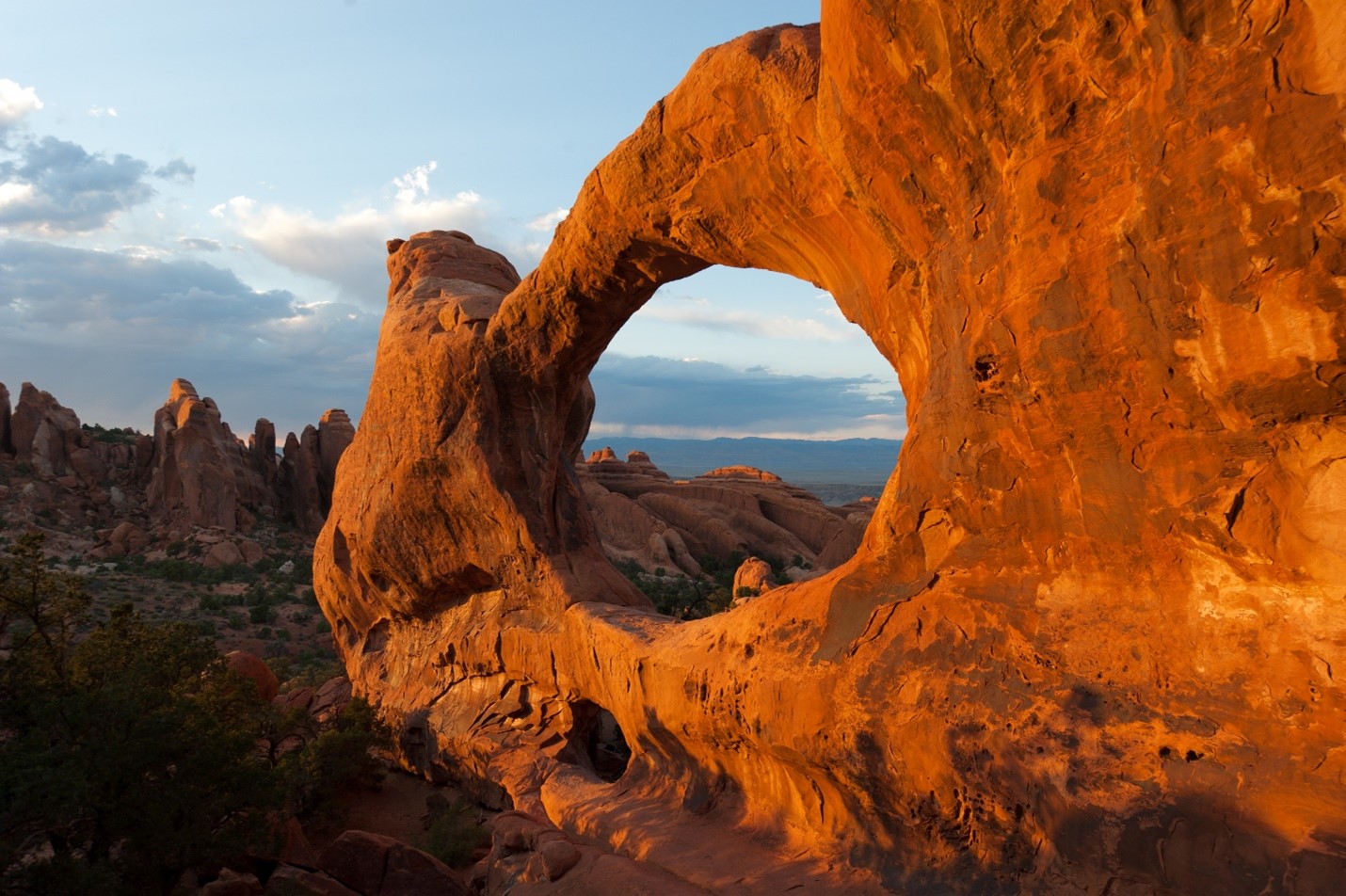 Arches National Park (NPS Photo/Neal Herbert)
Arches is aptly named for the world's largest concentration of natural sandstone arches (over 2,000) including the largest arch on Earth – Landscape Arch. Formed over the course of millions of years, these awesome structures illustrate the powerful forces of water, wind and time.
Other significant arches to visit include Delicate Arch, Double Arch and Tower Arch. However, even if you don't make it into the park and simply enjoy the park on a driving tour, there are plenty of soaring sandstone spires to admire from the roadside.
Bryce Canyon is a single sandstone canyon that offers much more than that description implies. The canyon is part of the Grand Staircase, an immense sequence of sedimentary rock layers that stretch from Bryce Canyon National Park through Zion National Park and into the Grand Canyon.
Here, you will find the largest concentration of irregular columns of rock, or hoodoos, on Earth. The red and brown striped hoodoos are a striking natural marvel attracting millions of visitors per year. You can enjoy the canyon by hiking, or travel along the rim of the canyon by auto and gaze at it from several spectacular viewing locations along the way.
This video by the NPS illustrates the awesome power of the hoodoos:
Utah and Dinosaurs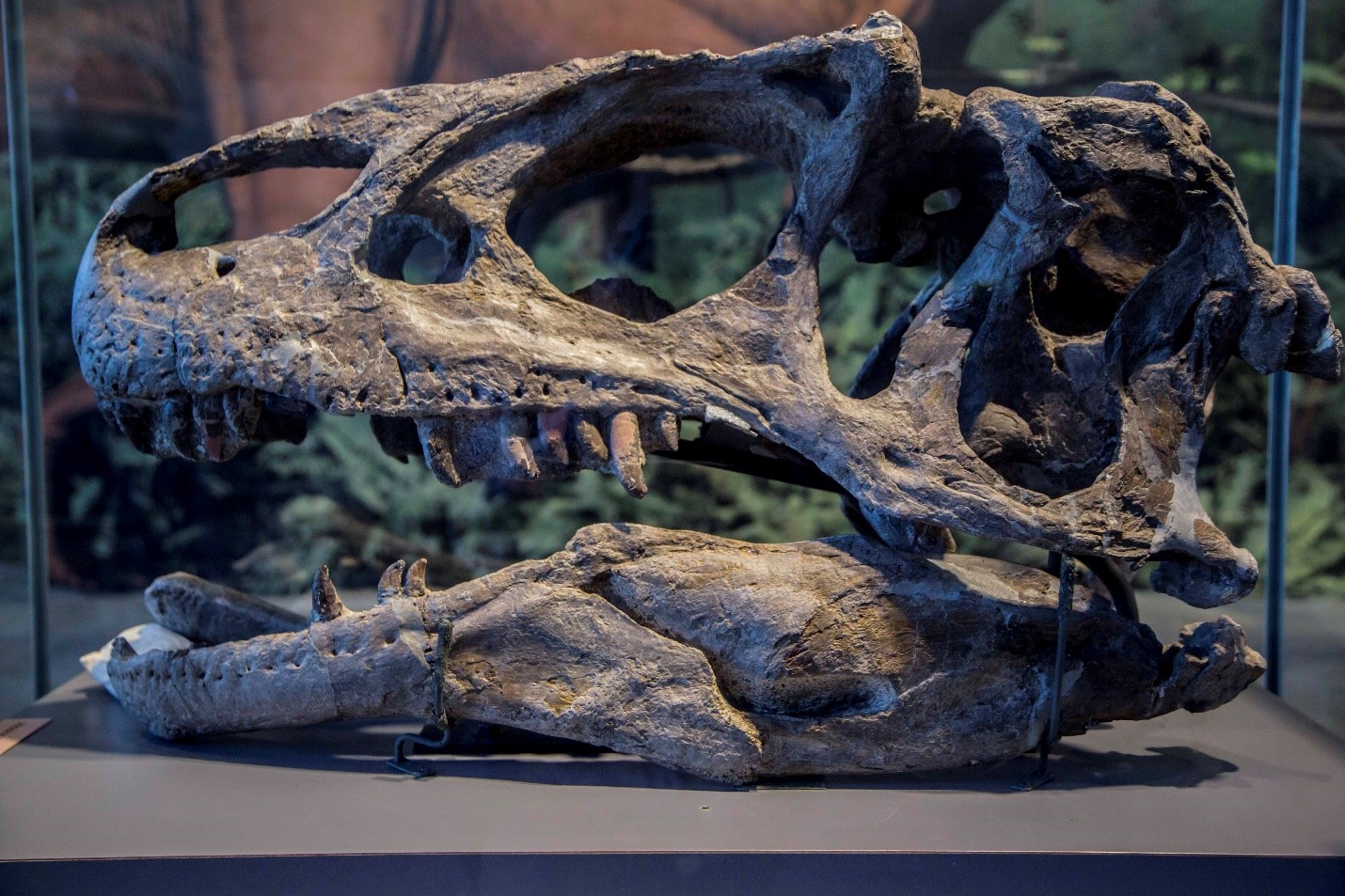 Allosaurus fragilis skull on display at Dinosaur National Monument
(National Park Service/Dan Johnson)
Utah is known for being one of the best places to study paleontology and see intact and preserved dinosaur fossils. If you or your kids are dino lovers, some of the best places to explore are in Utah and include:
Driving Tours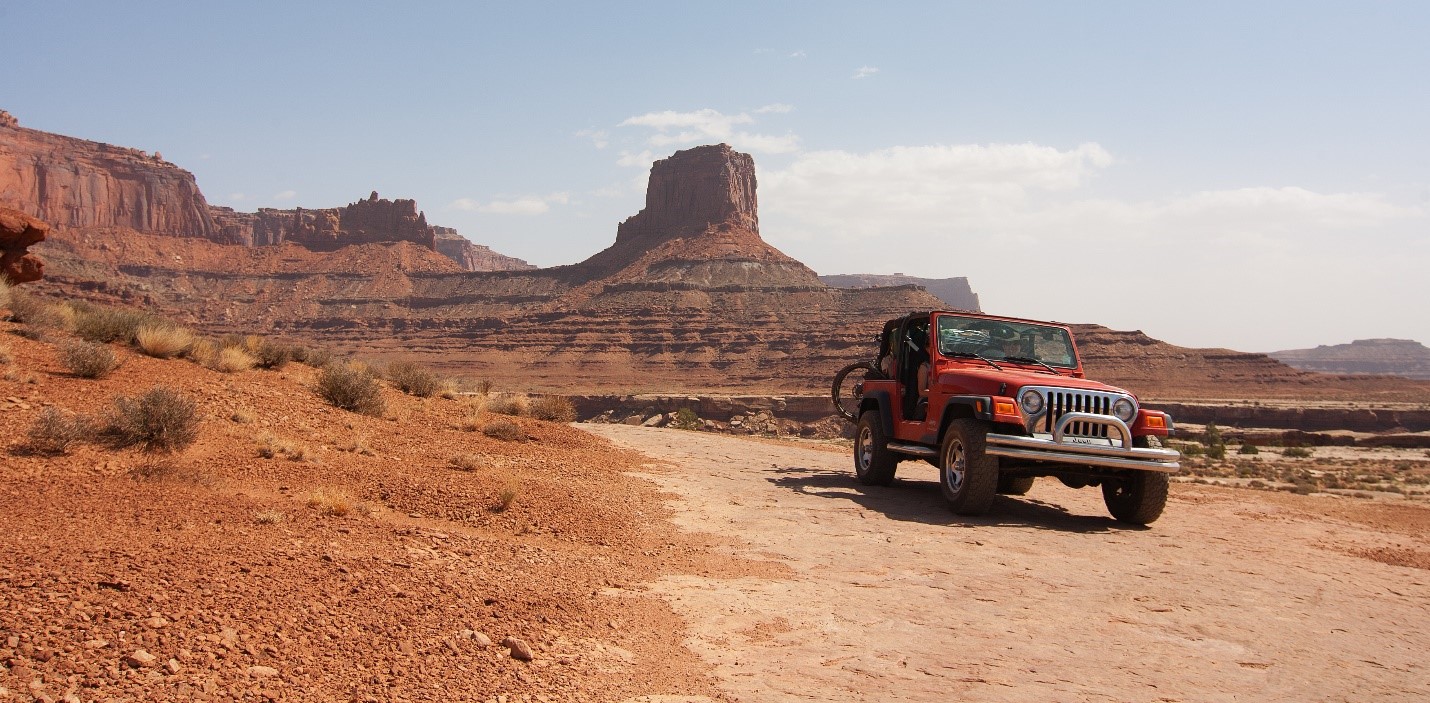 Driving the White Rim in Canyonlands National Park (NPS/Andrew Kuhn)
Utah is a great state to drive through. The views through your window are unequaled and there are plenty of interesting stops along the way. The White Rim Road (pictured above) requires high-clearance, four-wheel-drive vehicles, but Utah also has plenty of easily-accessible designated scenic byways to make finding your way relaxed and informative.
For a road trip that combines geologic wonders with opportunities to view abundant wildlife as well as spectacular vistas, take a drive along the Flaming Gorge Uintas National Scenic Byway. Running between Vernal and Manila on US Highway 191 and Utah Highway 44, this 2-hour tour will take you through the foothills and major geological formations, reaching the one-billion-year-old exposed core of the Uinta Mountains near Flaming Gorge National Recreation Area. There are 15 stops along the way that feature interpretive signage to enhance your understanding of the geologic and natural features of each location.
Be sure to stop at the Utah Field House of Natural History State Park Museum in Vernal or the Flaming Gorge Dam Visitors Center in Dutch John to plan your tour.
There are plenty more scenic byways to explore in Utah. Check out the scenic byways page on VisitUtah.com for a comprehensive list of all the national and state byways you can traverse.
State Parks and Smaller Attractions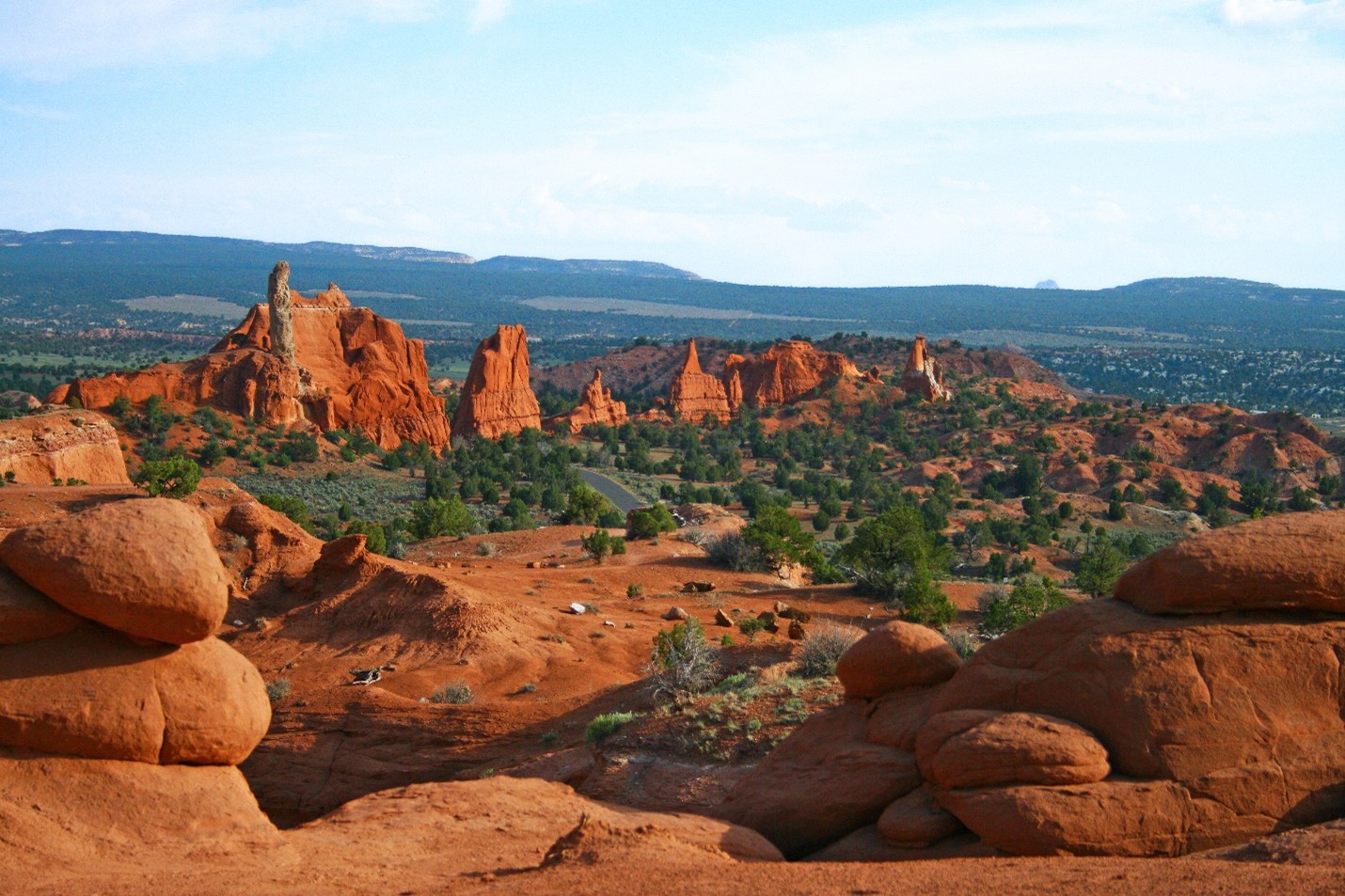 Kodachrome Basin State Park, Utah DNR

The Utah Geological Survey has compiled a great list and map of the lesser-known geologic sights around the state that don't get the attention that many of the national parks do. If you'd like to avoid the crowds and still see some fascinating geologic wonders, take a look at this helpful Utah Geological Society GEOSIGHTS guide.
There are also several state parks which have their own impressive geology that is well worth the visit. A few of the standouts include:
Professional Guided Tours
Guided tours led by a park ranger or naturalist interpreter may be limited due to the Covid-19 pandemic, however, that will likely change in the near future. To see whether there might be any scheduled geology hikes or events in Utah parks during your visit, you can search the National Parks events calendar and the Utah DNR State Parks Events Calendar.
There are also a couple of professional tour guide companies that specialize in geo tours. Try UtahGeology.com and Moab Geology Tours.
Learn More About Utah Geology
Just can't get enough Utah geology? Here are even more resources to delve deep into the rocks, minerals, gems, sedimentation and paleontology of the region.
Check out this Interactive Geology Map created by the Utah Geological Society. You can view a color-coded map of rock types and click on any location to learn more about the area. Find your own location on the map and get immediate information on the geology around you.
Grab an audio tour to take with you on your travels. Just Ahead Tours has narrated audio tours for Zion, Arches, Bryce Canyon and more to help enhance your enjoyment and understanding of your surroundings.
If you'd really like to delve deep into the geologic history of Utah, head over to the Utah DNR Natural Resources Map & Bookstore. The bookstore specializes in maps and other publications on Utah's geology and fossils, and they are the state's official source for U.S. Geological Survey topographic maps. Plus, they carry a variety of books and other rockhounding items to expand your understanding of the gems, fossils, minerals and rock formations of the area.
Purchase their books online or stop by in person to visit the bookstore located on the first floor of the Department of Natural Resources Building, 1594 W. North Temple, Salt Lake City, Utah 84116-3154.
We hope this guide to Utah Geology Travel has helped you plan and get excited about visiting Utah. It's really just the tip of the iceberg, there is so much to see and experience in Utah. We promise that it does not disappoint geology fans!
Share this post: