Be Prepared: Make an AEG Go Bag for Your Chapter Meetings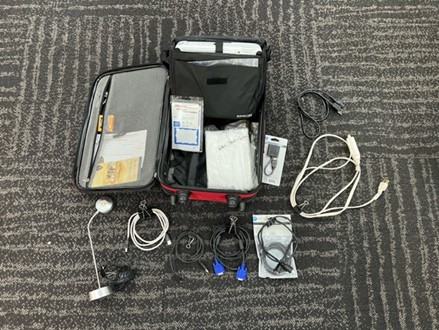 By Phyllis Steckel, RG; AEG Region 7 Director
Several years ago – back when all AEG local meetings were held in person – leaders of the AEG St. Louis Chapter had an idea:  meetings would be easier to host, if all the gear needed for an in-person meeting was kept together, in a sturdy carrier, and the supplies were complete.  An AEG 'Go Bag' (or a 'Red Roll-Aboard' or a 'Travel Case' or whatever you want to call it) was prepared.
A medium-sized roller-suitcase, a weekender size, was donated.  St. Louis' is red – distinct and less likely to get mixed up with similar suitcases -- but any color would work.  If you do have a black one, it's recommended that it be painted distinctly or clearly marked as the AEG Go Bag.
Items to include in your Go Bag
Pack the AEG Go Bag with everything you will need for a meeting.  Your chapter may have specific needs but some of the likely items you will want to include are:
A projector and connecting cables,

AEG nametags,

Two or three extension cords (the outlet may be far away, so you may need to string several together),

2" tape like duct tape (to secure the extension cords to the floor),

Sharpies,

Markers in various colors,

Scissors,

Sign-in sheets for attendees,

Student brochures,

New member forms,

Pens,

A replacement bulb for the projector,

A clean, white flat-sheet (which can serve as a screen in a pinch),

A few shims to use under the projector if it doesn't self-adjust,

Thumbtacks,

A pad or two of paper,

A gavel,

A laser pointer,

Extra batteries,

Some reusable laminated directional signs, such as "AEG MEETING -->,"

A checklist of all items that should be in the bag. 
There may be other special gear you just might need, depending on the venue.  One St. Louis meeting site was great, but the treasurer's corner was very dark – so a small, battery-operated table lamp (just a few inches high) was added to the Go Bag - problem solved.  Other AEG chapters may have other unique needs.
Maintaining your Go Bag
The AEG Go Bag and its contents should be dedicated for AEG events only.  If it is available to too many users, it will get cannibalized and the next time you show up at a meeting, critical items will be missing. Your checklist should help you double check the bag before each meeting to ensure that all the supplies are present. It's a good idea to double check it again at the end of the meeting to ensure that nothing accidentally gets left behind.
Between AEG meetings, the AEG Go Bag is kept at the offices of a St. Louis consulting firm that has quite a few active AEG members and several chapter officers.  Before each meeting, someone from that office is assigned to bring the AEG Go Bag to the chapter meeting – so if the officer is out of town or unavailable, the AEG Go Bag will still get to the AEG chapter meeting. 
Every few months or so, the AEG Go Bag is inventoried and refreshed.  And it will definitely need a hard look once we get back to full in-person meetings after a year of dormancy.  But by being prepared, the AEG St. Louis Chapter meetings usually go off without a hitch.  Perhaps this idea will work for other AEG chapters too.
Does your chapter have any helpful organizational or management tips? Let us know! 
Share this post: